UNIC Mini Crawlers Cranes
Delivering the ultimate combination of powerful lifting in a compact size, UNIC deliver a wide range of Mini Crawler cranes with powerful lifting capability starting from 2.93 Tonnes to 10 Tonnes and as much as 22.90mt of hook height.
Also known worldwide as a Spider Crane the UNIC Mini Crawlers are highly regarded in the crane industry as they are designed to be the most compact and manoeuverable piece of lifting equipment available worldwide.
UNIC have a large range of Mini Crawler cranes starting from the smallest UR-W295 at only 600mm wide (narrow enough to track through a standard doorway). This compact mini crawler has multi-angle outrigger configurations so that the crane can be set up in the best position giving the operator maximum stability and flexibility when working in those tighter work areas.
The UNIC 1006C is and the world's largest Mini Crawler crane with a lifting capacity of up to 10 tonnes and is unrivalled in the global market for strength and size.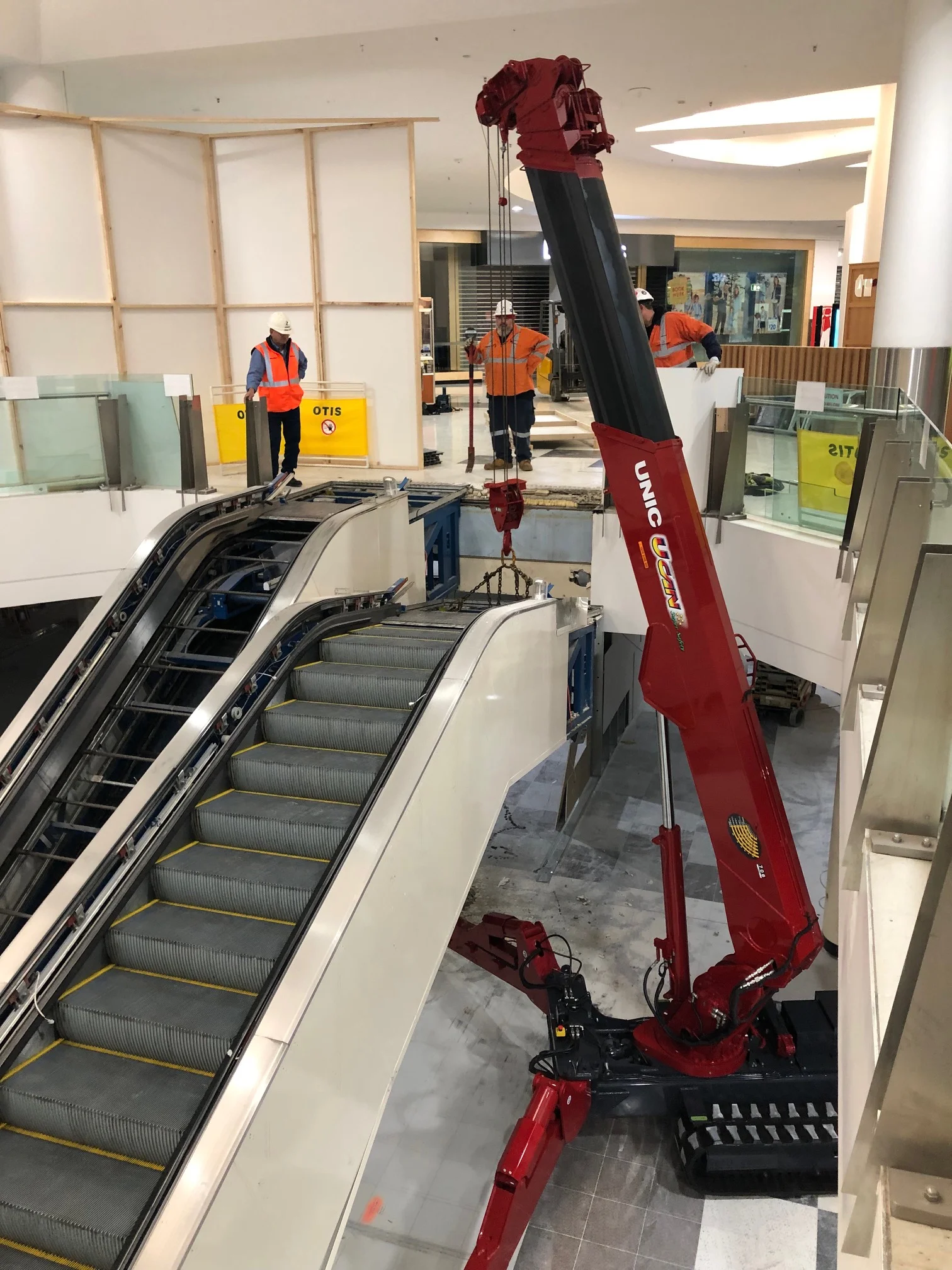 Introducing the latest in Mini Crawler crane engineering, the UNIC battery powered Eco-295 model provides fume-free lifting for indoor and sensitive environments.
Ideal for food processing plants, listed buildings, shopping centres, airports and clean environments, this unique Mini Crawler is powered by a rechargeable 48v battery yet retain all the lifting power of our standard models. Innovative features include low-marking wheels which enable the cranes to work on light-coloured or polished surfaces.
Safety Features & Options
Safety is paramount in the workplace which is why Unic Mini Crawlers have standard safety features including, 360 continuous slew, Radio Remote Control, load meter, three-coloured lamp and an automatic stop device for overloading
– all to ensure maximum safety for the operator.
With a wide range of accessories including, searcher hook, fly jib, single line hook, you can get even more reach and lifting capacity out of your crane. The UNIC Mini Crawler also comes standard as Diesel fuelled and available option of Diesel/Electric for working indoors allocations.
Shopping Mall
Warehouse
Factory & Airport Operation
Exhibition & Show Ground
Roof-Top & Building Work
Underground & Tunnel Operation
Steel Erection & Fabrication
Construction
Concreate Panel
Cemetery Headstone & Monument Lifting
Landscaping
Military
Mining
Power Plant Maintenance
Rail Projects
Waste Treatment Water
Tunnel Operation
Glass & Facade Installation
Stair & Escalator Installation & Removal
Signage & Working at Heights