A versatile addition to your ute, truck or van, the Tommy Gate liftgate is unrivalled in its field.
Tommy Gate hydraulic tailgates are the perfect addition to your ute or truck.
We offer a full line of Liftgates and Van Lifters for any personal, commercial, or industrial application. These liftgates are tow bar and spare wheel compatible and are also available as a galvanised frame to protect against the harsher Australian elements.
Depending on your particular cargo-handling needs and your vehicle, certain liftgates may be more suitable than others. We offer the following products for your vehicle's lifting requirements
Truck Tailgate Lifters
Heavy Duty Railgate Lifters
Van Lifters
Lift and Dump Solutions
Woodbine Manufacturing Company is the developer of Tommy Gate, a premier brand of private, commercial, and industrial hydraulic lifts. Established in Woodbine, Iowa in the US in 1965 by Delbert "Bus" Brown, Tommy Gate has experienced steady growth in each of the past five decades and is widely acknowledged as a market leader in the industry.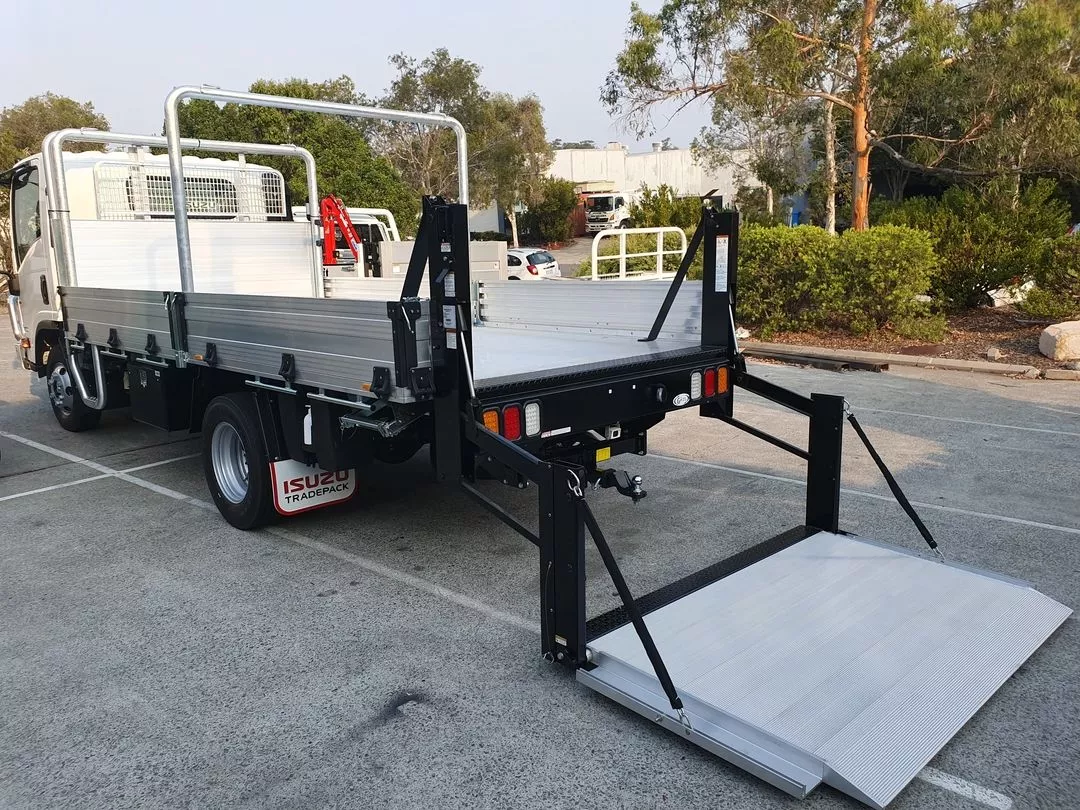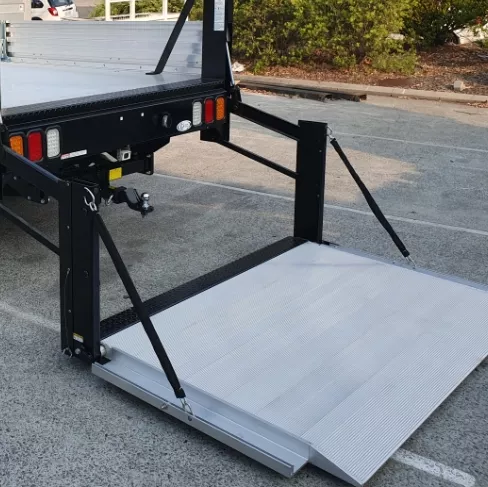 The G2 Series liftgates are a dual cylinder, parallel arm design that utilises a pair of hydraulic cylinders to lower and raise the lift by applying direct power to both sides of the platform.
Providing increased durability for rigorous cycling the G2 series have relatively low maintenance requirements. The paint-before-assembly process ensures the longevity of the liftgate's aesthetics.
Tow bar compatible
Integrated LED tail lights
Spare wheel compatible
Larger platforms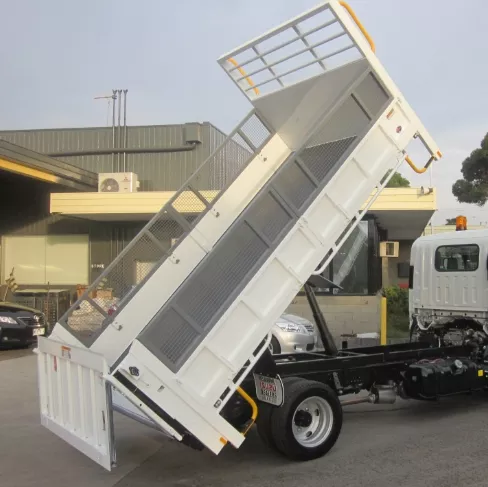 Tippers are more versatile when they're a Tommy Gate Lift 'n' Dump.
The Tommy Gate Lift 'n' Dump allows you to maximise profit whilst minimising the size of your fleet.
This model provides the operator the lifting performance of a traditional hydraulic tailgate – offering a maximum lifting capacity of 730kg. Not only that but this series gives the owner dump-through capabilities for tipper bodies and platform bodies.
Dual hydraulic cylinders, fully-enclosed hydraulic system & safety time-out system.
Pins lock the lift's platform in place when not in dump mode
Platform latch activates the liftgate's dump-through position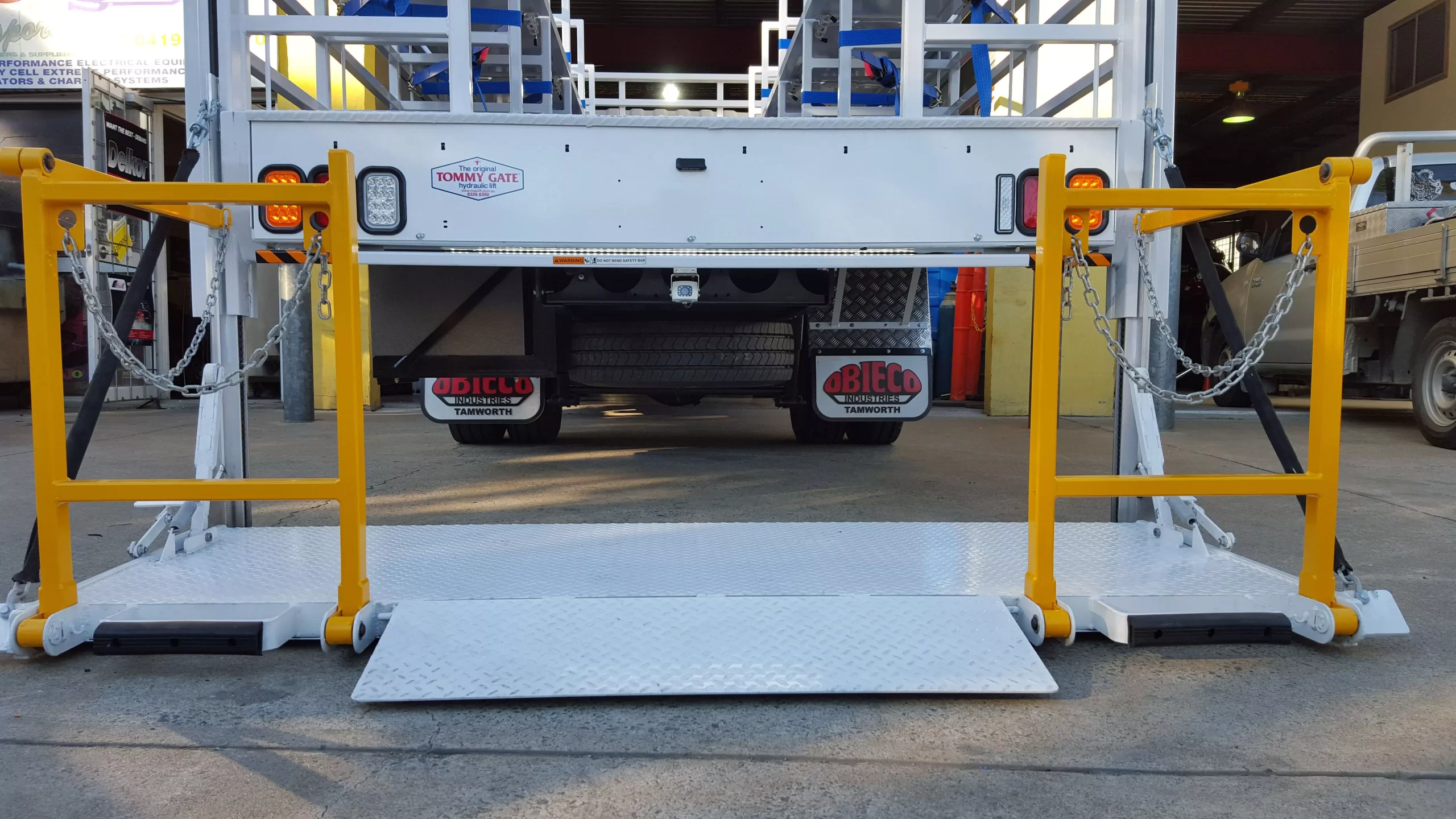 This series consists of expertly engineered lifts that allow for higher weight capacities and deeper platforms. 
The level-ride function and options such as cart stops and retention ramps make them ideal for heavy, sensitive, wheel-based cargo. Specifically engineered for gas bottles, the GBR railgate series can be found in major gas fleets Australia wide.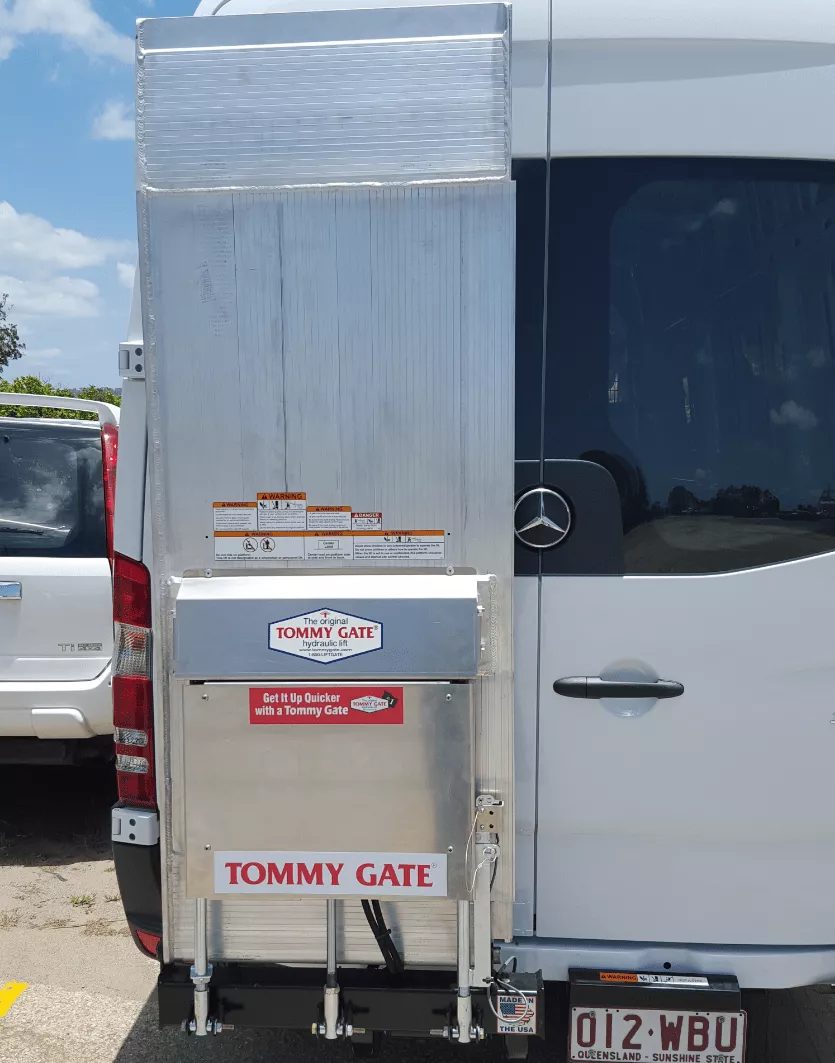 Modern hydraulic liftgates that's are specifically designed to operate seamlessly with commercial vans. 
Tommygate offer a range of both internal and external van lifters.
Cantilever Series
A is especially impressive as it folds in half, allowing the driver to open one back door of the van without having to unfold the gate. This ease of access  greatly improves quick small parcel deliveries as the rear door is still accessible.
650 series
A low-capacity, compact and internally mounted liftgate, making it ideal for lightweight van applications.
V2 series
A heavier duty internal van lifter, providing the maximum platform load area, while occupying the smallest possible space when stored in the rear of the van.